Let Emstar Kitchens make your project come to life
Emstar Kitchens is family owned joinery work shop which specialises in the two pack polyurethane pained finishes and when it comes to designing a new kitchen for a renovation or a new home, there will be many question that will cross your mind, like, will it be a classical style kitchen, like a French provincial kitchen or a modern contemporary or some design you might have thought up yourself, whatever it might be, there will be many decisions to make, like picking out appliances, like a new stove or a under bench oven and hot plate, Sink style and size, Micro wave oven position, what type of Rubbish bin to be installed, Dish washer features , like will it be free standing, semi, or fully integrate, Fridge size and position, Range hood, and most of all you are going to have to decide on a high pressure laminated or Stone bench top to finish your kitchen.
With any questions you might have , we will be happy to answer and help you decide with Style and colours for your
new kitchen so give us a call or an email to make an appointment.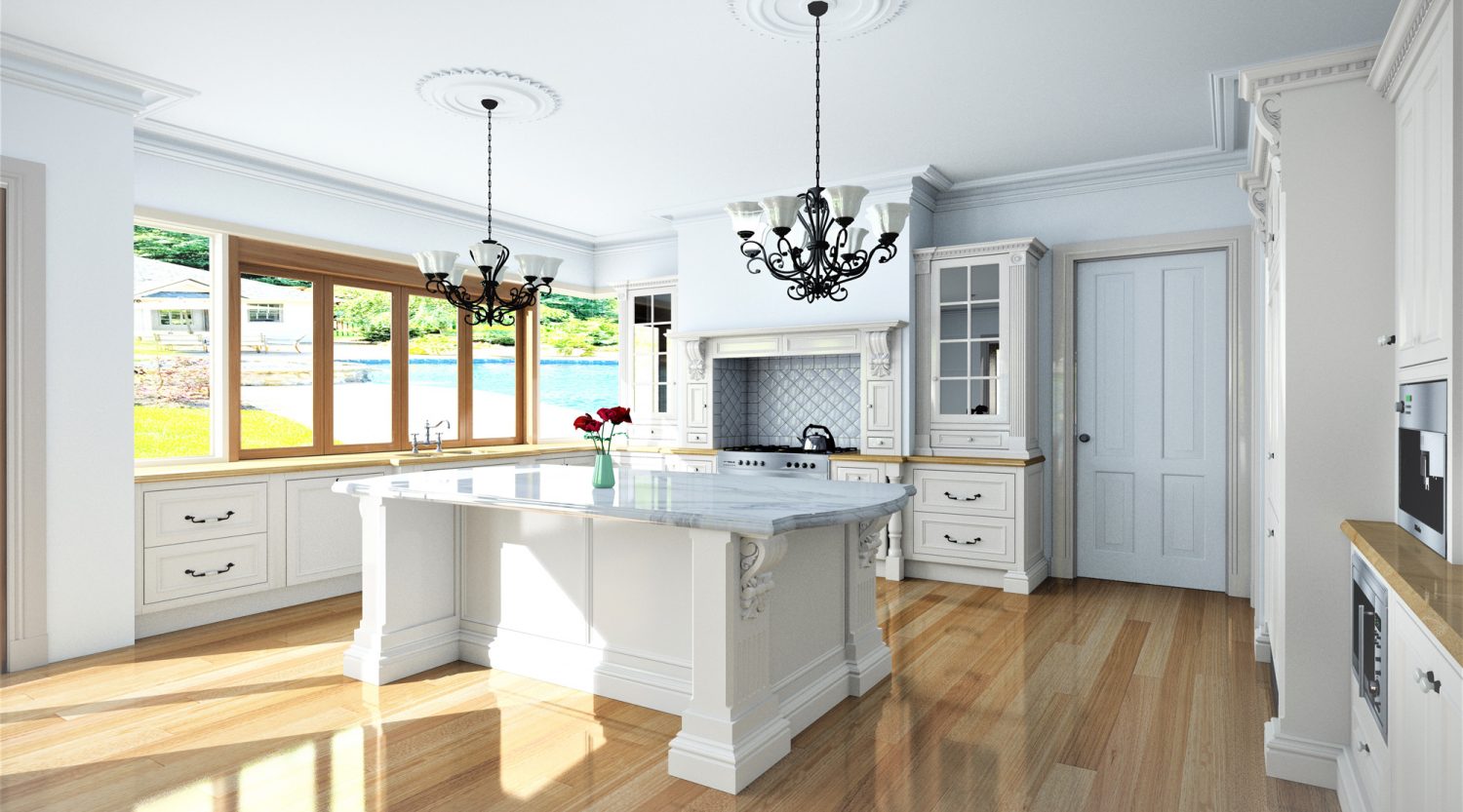 Designed for requirements
No matter what space you might have for a new kitchen bathroom or laundry, you can be sure there's always a solution to your project, with careful planning practicality and consideration to all in the home who use the area, we can always find the right solution and design to meet your life style requirements and budget
Computer drawings
With our 3D-CAD computer program we can professionally present a photo realistic image of a simple or complex design, and most of all a virtual tour of your design in a 3D realistic computer generated scenery, so you can fully understand what your kitchen or any joinery layout is going to look like before any work commences. We also have a 3D computer service on hand if you only need drawings supplied to have the work done by a third party.
Spraying technique
All opening cabinet doors and drawer faces are sprayed both sides and all edges, first with a two pack isolator and after drying, then sanded down, the second stage is the polyester high fill primer and after twenty four hours the final smooth sanding down is applied, after cleaning and de dusting is done, then the top coat colour is sprayed in a two part polyurethane satin or high gloss to give a durable long lasting quality look and smooth finish.
Contact us for more information
Phone: 0418 304 109
Contact us for more information
Phone: 0418 304 109